Rsr Exhaust Shutters 63mm Dual Boost For Remote + 2.5 Abgas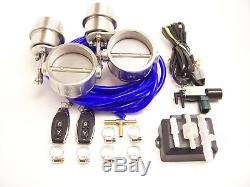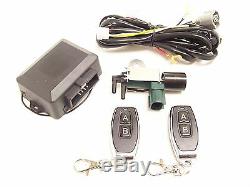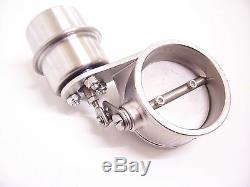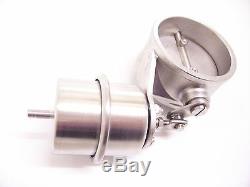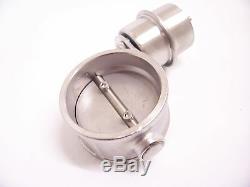 Rsr exhaust flaps 63mm dual boost for remote + 2.5 Abgas. This product page has been automatically translated.
If you have questions, feel free to contact us. Material: Stainless steel v2a / very good weldability internal dia. 72mm depth: 40mm height: about 15cm with bobbin width: about 1 2.5 implementation: pressure / closed opening pressure: begins to 0.3 0.6 bar max. Open silicone tube: 4.5 cable length: 1m for clock valve and 1m for supply weight: 2050g list of vehicles nest quune dex-list items, the exhaust flap fits all vehicles . With turbo engine of a 63 mm or 2.5 inch exhaust system.
Valve system for exhaust systems turbofan, it works with a dispensing valve which is connected to the intake manifold. The engine boost pressure is then monitored remotely distribution valve and opens the exhaust flap and closes. In this variant, the flap opens when the engine is running with a turbocharger and boost pressure rises above 0.4 bar, and the valve is open, the boost pressure falls below farm automatically pane until the pressure increases again. Without battery, the shutter opens only at full speed (shock load on 0.4 bar) when the clock valve is open and closes when you go to the gas! In normal driving, the vehicle is quiet, at full capacity, it is sports!
With a pressure accumulator, the pressure can be maintained longer even when no load pressure is applied, the flap can be opened until the memory is empty, it automatically fills in the way. Louverture is possible without idling or boost pressure with the engine off, the battery is not included in the kit but can easily be installed later if necessary! The control unit with the clock valve is connected by a plug and then, only the plus (+) and minus (-) connected in the German manual / English is described, because the flap system is installed with and without pressure accumulator. The exhaust valve is closed in the basic position and opens at an overpressure of pressure / boost 0.3 bar 0.6 bar, the flap is fully open. The flap is universally applicable.
Turbocharged gasoline or diesel generating a supercharging pressure of about 0.6 - more than 1 bar. Without clock or accumulator valve, the valve is at idle and under 0.3 bar closed boost pressure from dune boost pressure of 0.3 0.3 bar closes them again. Silencers can be bypassed with the exhaust flap to change the sound of the sports exhaust system (such as motor sport) or to reduce the pressure against the exhaust from the exhaust system to almost zero in turbo engines - what is good for the max. The flap system is without tüv (motorsportteil) and not authorized for public traffic!
The valves are available in 51, 60, 63, 70, 76mm, the corresponding systems with valve cycle to negative pressure and overpressure are available in the workshop located under the exhaust system / exhaust valves. Included in the set are: 2 x exhaust flap v2a 1 x control unit 1 x 1 x power cable clock valve approximately 1 x 1m silicone cable of about 4.5 m x 6 clamps 2 x tee small / large pipe adapter 1 x 6mm to 8mm 1 x non-return valve. Universal for all turbocharged gasoline or diesel engines with exhaust system of 63 mm or 2.5 inches.
If you have questions about these or other items, send me a message. 4cm breit, 15cm hoch mit dose. 2 x 63mm, 2.5 zoll. 0,3bar beginnt zu öffnen / 0,6bar voll offen. The item \exhaust \ intermediate tubes, end caps \The seller is \This item can be shipped to the following countries: Europe.