Cooler The Water Heater Spider Giulia Gt Bertone Alfa Romeo 105 63-69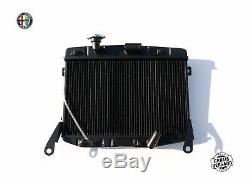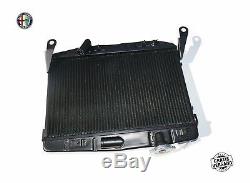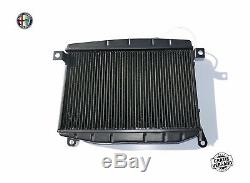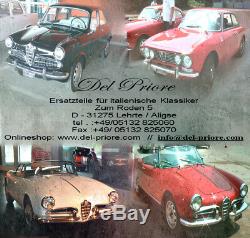 Radiator water cooler spider giulia gt bertone 105 alfa 63-69. This product page has been automatically translated. If you have questions, feel free to contact us.
High performance network engine gtc 1300 1600 1.3 1.6. Cooler High Performance water / engine coolant for Alfa Romeo Spider duet 1. Type 105 Series / giulia t / super giulia nuova / Junior & gt bertone veloce year 1963-1969 for all carburettor engines in 1300 and 1600 black!!!
Up to 30% more performance !!! Heater / cooler water high performance engine alfa romeo spider 1 Type 105 series / giulia t / giulia gt 1963 to 1969 for all 1300 1600 carburetor engines in black !!! Up to 30% more power !!
Description / Description / descrizione. A powerful water cooler / chiller motor including a metal radiator cap and the upper ventilation pipe of an Italian quality manufacturer. The cooler is high quality and fits perfectly. The network brings high performance up to 30% more cooling capacity. Basic dimensions: length 490 mm / 310 mm height / width 38 mm.
If you want advice, please email us or call us. We are happy to help you! All the quality of the original manufacturer and even better! A high quality engine radiator included the lid and the upper tube.
High quality product produced by a specialist in Italy. On the high performance score, the radiator gets up to 30% cooling power more. The water cooler is suitable to the types Alfa Romeo 105/115 like spider tail boot / giulia t / giulia gt, gt bertone Junior & veloce / gtc. (1300 / 1.3 liters) (1600 / 1.6 liters). Made of high quality italy !!
units per game / game units / unita per game. 3 pieces / units / unita. 1x engine cooler / black water cooler. 1x transparent upper radiator hose.
Article number / Codice articolo. Series / giulia t / giulia gt. Alfa Spider rundheck / boot tail 1300/1600 bpd.
Alfa giulia ti bj 1300/1600. Alfa giulia gt 1300/1600 bpd.
Looking for other parts fiat / alfa romeo for classic cars or you have questions about the items offered? Alfa romeo gt / bertone giulia / saloon giulietta zagato.
For example, the wings are exclusively galvanized so that you have long been a part of your baby. You can be sure to get us the best possible quality at attractive prices. Shipping in Germany is of course free for you (dpd). Foreign bidders are welcome, please ask before bidding shipping rates. Spare parts for classic Italian to lift 5 D - 31275 lehrte / Aligse tel. +49/05132 825 060 Fax: + 49/05132 825070. Sale of software Supreme line. Door seal alfa giulia saloon Left Right Rear 1750 1963 to 1978 2000. Ignition son game alfa 115 giulietta spider 116 75 90 1.6 - 2.0. Game spark ignition son son alfa 105/115 spider giulia gt bertone gtv green. Game spark ignition son son alfa 105/115 spider giulia gt bertone black. Game spark ignition son son alfa 105/115 spider giulia gt bertone gtv red.
Rolling block drive shaft rubber fiat 124125131 Italy mounting shaft. Hard fiat spider 124125 131132 cut Argenta propshaft joined Italy. Cardan shaft bearing rubber alfa 105/115 spider giulia gt bertone 63-94 again. Fiat Dino Spider Persenning carrier holder hook metal set soft top cover 1966-1972.
Fiat Dino Spider Persenning shoe plastic bowl set soft top cover hook 66-72. Top cover 124 fiat spider Persenning beige + metal and plastic hooks 1966-1982. Fiat 124 spider Persenning black soft cover top cover black nero copri top 66-82.
Description / Description / descrizione made in italy high quality !!! Super giulia nuova ti facelift 4 Türer saloon. 1963 - 1969 boat tail spider rundheck duet.
Fastbak fastback tail round stainless steel series. Gebraucht Gebrauchtware edelstahl breit schmal. Abitacolo ricambi oe oem limousine t. Junior veloce duet osso di sepia. Rund heck rundheck glatthaube kantenhaube haube. Kante 1600 2000 gt pannel saloon Roundtail gta. Made in italy malo Akron qualität engine mounting. Motorkühler Autokühler radiator Wasserkühler new. Kühler Kuehler wasserkuehler motorkuehler getriebe. Schaltgetriebe mit ohne Klimaanlage Valeo nisssens. Aluminum Rennsport qualitativ hochwertig stabil. Sehr hohe kühleigenschaften big kühlfläche. Kühlung KUHLER kühler-Lüfter Lüfter kühlsystem.
Van wezel behr SCHLIECKMANN Augros aks dasis. 4seasons nrf binder Kilen FRIGAIR schneider self. Autokühler Radiator nuovo nuova great. Radiator cooling water acqua refrigerador. Alfa romeo giulia gt gt bertone giulia spider ti.
Matt Markenware hersteller qualität rover. Italian Fiat italy italia glanz giulietta spider. Julia Gulia bertone preiswert günstig oldtimer.
Liebhaber youngtimer old young Liebhaberstück. Verkleidung reparatur Reparatursatz satz set. Befestigungsteile befestigung Tülle schraube fast. Exclusiv exklusiv Neuware Versandkosten frei.
Supplier quality hersteller beste qualität best. Price preis giulietta giulia spider ti chromed. Original genuine original remanufactured typ. Pedal and hight standard pedal repsatz 1300 1750. Cast housing center bearing swag engine mounting.
Left fits mounts Einlass Auslass einlaßseite. Rechts Sinestro Sinestra denestro denestra achse. Refrigerador de agua radiator Radiator radiator.
Radiator netzmasse Mass: 460 320 38 105/115. Oven door 4-door 2-door 2-2 Türer Türer cut. Intercooler inter sprint osso di sepia.
The item \\ multi-brand \ documents \ body, mirrors. \The seller is \This article can be shipped worldwide.
product group: cooling system <\/ li>
produkt abroad: not <\/ li>
package: not <\/ li>
manufacturing country: Italy <\/ li>
Article modified: not <\/ li>
Surface structure: nine <\/ li>
Mounting position: Front <\/ li>
reference numeral oe / oem: input left rubber support should output <\/ li>
material: metal <\/ li>
Another article reference: 1963 - 1969 round tail spider tail boat ship duet <\/ li>
Manufacturer warranty: 2 years <\/ li>
Manufacturer .: rover / own brand <\/ li>
other labels 1 :: super giulia nuova ti facelift sedan Türer 4 <\/ li>
Unit amount: 1 radiator <\/ li>
Manufacturer: Alfa Romeo / own brand <\/ li>
oe reference number: alfa romeo giulia gt gt bertone giulia spider ti <\/ li>
manufacturer part number: 268-1 / 2681 <\/ li>
other tags 3: intercooler inter sprint osso di sepia <\/ li>
mark of vehicle: Alfa Romeo <\/ li>
Product type: radiator <\/ li>
unit of measurement: unit <\/ li>
other labels :: 2 four door 4 door 2 Door 2 Door 2 Door cut <\/ li> <\/ Ul>