Clutch + Flying Engine Bravo-brava-punto-stilo-multipla-marea 1.9 Jtd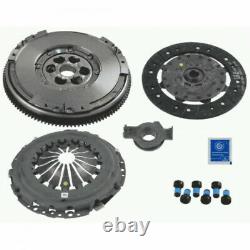 Complete clutch kit with rigid motor steering wheel. Important: our clutch kits with motor steering wheel come with a lubricating protective layer. The assembly is recommended to be carried out by a qualified professional. Before installation, it is imperative to remove the lubricant layer for perfect use. Reference luk (indicative): 600021600- 600005400.
Leader auto parts sells a full range of clutch kits with high-quality motor steering wheels at discount price. The latter are rigid, and replace dual-mass motor steering wheels, which are considered to be more fragile in use. With leading auto parts, you will get a professional quality set at discount price. The maintenance of your vehicle must no longer be a luxury. Alfa romeo 147 1.9 jtd 101 06/2003-03/2010 (3348658).
Fiat brava 1.9 jtd 100 12/1998-10/2001 (3348659). Fiat brava 1.9 jtd 105 12/1998-10/2001 (3348660). Fiat bravo 1.9 jtd 100 12/1998-10/2001 (3348661). Fiat bravo 1.9 jtd 105 12/1998-10/2001 (3348662). Fiat doblo 1.9 jtd 100 03/2001-01/2010 (3348663). Fiat doblo 1.9 jtd 105 03/2001-01/2010 (3348664). Fiat doblo cargo 1.9 jtd 100 03/2001-01/2010 (3348665). Fiat doblo cargo 1.9 jtd 105 03/2001-01/2010 (3348666). Fiat marea 1.9 jtd 105 12/1998-12/2002 (3348667). Fiat marea 1.9 jtd 110 12/1998-12/2002 (3348668). Fiat Marea weekend 1.9 jtd 105 12/1998-12/2002 (3348669).
Fiat Marea weekend 1.9 jtd 110 12/1998-12/2002 (3348670). Fiat multipla 1.9 jtd 105 04/1999-06/2010 (3348671).
Fiat multipla 1.9 jtd 110 04/1999-06/2010 (3348672). Fiat multipla 1.9 jtd 120 04/1999-06/2010 (3348673). Fiat palio weekend 1.9 jtd 80 separately.
Fiat punto 1.9 jtd 80 09/1999-03/2012 (3348675). Fiat punto 1.9 jtd 86 09/1999-03/2012 (3348676). Fiat stilo 1.9 d 100 multijet 02/2002-11/2006 (3348677). Fiat stilo 1.9 jtd 80 02/2002-11/2006 (3348678). Fiat stilo multiwagon 1.9 d 100 multijet 01/2003-08/2008 (3348679).
Fiat stilo multiwagon 1.9 jtd 80 01/2003-08/2008 (3348680). Fiat strada pick-up 1.9 jtd 80 separately.
The choice of a spare car part is of paramount importance. On the same vehicle model, for the same part, there may be different mountings, depending on the year in circulation, options when buying etc. All images are illustrative and non-contractual. They are provided for information purposes.
Some accessories are not necessarily provided, depending on the manufacturers. The visual aspect and the article may be changed at any time without notice.
We invite you to contact us before any order should you have any doubts. Otherwise, we cannot be held responsible for any incompatibility between your order and your vehicle. Do not hesitate to contact us, in order to avoid any errors and immobilization of your vehicle. It cannot guarantee the perfect compatibility of the room.
We advise you to take into consideration the technical information, and the non-exhaustive list of compatible vehicles, which are located under the banner of our shop above. Due to numerous abuses, please send us the payment of your purchases within 48 hours. For confirmation of compatibility or inquiries, please contact us.
By communicating to us the elements of the grey card, registration date of release into circulation (b);mark d. Data on the grey card facing these markers. Leader-pieces-auto, they are hundreds of references of new spare parts adaptable, second mount. A premium range, original equipment parts at the best price. For any request for information, do not hesitate to contact us, we respond within the day.
Pro quality at discount price, is at home. Order as many items as necessary, you will have no bad suprise. We sell and ship internationally. We will charge you the most correct port charges. Before you pay for your purchase, "ask the seller for the total". So that we could take off the amount of the tva. Shipments outside metropolitan france only concern parcels not exceeding weight and volume governed by postal services. Sales in the countries of the cee. For trade in the countries of the European Union, sales are concluded in.
Delivery is provided by the following service providers. Carrier (for bulky objects, axle type). Supplements to be paid (options that you have specifically chosen).
The indicated fees include packing, processing your order and shipping. Also think about checking your unwanted mails.
Orders are recorded and processed daily. They are taken into account until 12:00, for preparation on the same day.
The carrier takes over the following day, except for weekends and public holidays. For certain references, additional time may be required. It is indicated on the product form. If the object ordered was no longer available for the processing of your order. Commits to provide it to you as soon as possible, or to refund you immediately upon request, or a period deemed too long.
At any time, even after acceptance of the balance, the buyer can cancel his order and request his refund. The resupply times given are indicative and transmitted by our suppliers. Information on processing and delivery times. Processing of the order (request for confirmation of availability and preparation).
Delivery of the order to the supplier for delivery. Delivery time (except in the case of force majeure, see terms and conditions of the service provider). Sunday and day is on. We remind you that it is essential to sign and verify your parcel at the time of delivery. An order made on a holiday will be processed on the first working day following the holiday.
No order preparation on a working day between two holidays, or between a holiday and a weekend ("bridge"). Conditions for the return of pieces. Reimbursement of a returned coin is not systematic. The following conditions will absolutely have to be met.
Return the piece to its original packaging, not deteriorated. It must, in turn, be overpacked so that it does not suffer any damage when it is transported. The returned part must never have been installed or tested on the vehicle.
The product must be able to be sold again by leading auto parts (excluding parts under warranty) in its original intact packaging. Failure to comply with these instructions may result. Application of a minimum discount of 15% on the refund amount of the returned coin.
Photos may be attached for justification. Refusal of the exhibit at the time of presentation by the carrier. The non-reimbursement of the room. Refunds are made by crediting the means of payment used during the order, unless otherwise requested by you, within a generally recognized period of two to three weeks.
A possible participation of car parts leader at the cost of returning the part may be carried out, after explicit agreement of the service after sale, in the form of sending a good pre-paid. No financial reimbursement will be granted, on costs of return ports.
The item "clutch + steering wheel motor bravo-brava-punto-stilo-multipla-marea 1,9 jtd" has been on sale since Tuesday 13 July 2021. It is in the category "auto, motorcycle - parts, accessories\auto\ spare parts\transmission systems\motor volants". The seller is "lpa26" and is located at/in valence. This item can be shipped to the following country: france.
mark: generic
Manufacturer part number: rdmk40027 Car mark: alfa romeo Model: 147