Clutch Kit Valeo 826865 Lancia Delta III 1.6 D Multijet From 09.08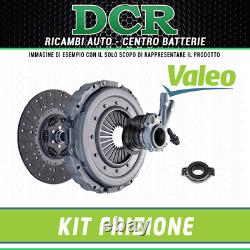 Clutch kit valeo 826865 lancia delta iii 1.6 d multijet from 09.08. This product sheet has been automatically translated.
If you have any questions, please contact us. Monday to Friday from 9 a. Clutch kit valeo 826865 lancia delta iii 1.6 d multijet from 09.08. Additional article / additional info.
Without a central disconnection device. Send the license plate to check compatibility. List of original oem codes. Alfa romeo giulietta (940) 1.6 jtdm. Alfa romeo mito (955) 1.6 jtdm. Fiat 500l (199) 1.6 d multijet. Fiat bravo ii (198) 1.6 d multijet. Fiat bravo van (198) 1.6 d multijet.
Fiat doblo van/box/promiscuous (263) 1.6 d multijet. Fiat doblo combi (263, 152) 1.6 d multijet. Fiat doblo kombi (263, 152) 1.6 d multijet. Fiat doblo MPV/Station wagon (263, 152) 1.6 d multijet.
Fiat doblo amion to tray / hâssis (263) 1.6 d multijet. Fiat large punto (199) 1.6 d multijet.
Fiat linea (323) 1.6 d multijet. Fiat pratico amion tray / hâssis (263) 1.6 d multijet.
Fiat punto evo (199) 1.6 d multijet. 10.2009 - 02.2012. Fiat sedici (fy_) 2.0 d multijet. Fiat sedici (fy_) 2.0 d multijet 4x4.
Lancia delta iii (844) 1.6 d multijet. 09.2008 - 08.2014.
Vauxhall combo mk iii (d) box / box / mixed 1.6 cdti. Send your vehicle data to check compatibility! Don't risk any nasty surprises! Send us the license plate or vehicle data at the same time as the purchase so that you receive only compatible spare parts. Dear customer, as you can see on all our advertisements, there is product code (or codes). Thanks to this, you can check the correspondence directly from our partners' online catalogues. While many parts of auto parts may look \"identical\" visually, they actually have structural differences that do not guarantee the right functionality for your car. Our transparency is a guarantee of professionalism for all your online shopping. Delivery is made by express mail 48 hours (72 hours for islands or peripheral postcodes) sda / gls / tnt. Costs may vary depending on the item. In the event that there is no one on the first delivery, the carrier will leave a notice of passage. This sheet indicates when the mail has passed and specifies that it will try to pass again in the next 48 hours.
If there is still no one at home the second time, the customer will be contacted by mail to agree on a delivery time. Payment can be made online or at bank branches. The cost of the commission varies according to the contractual conditions applied by the original bank. Bank details are displayed immediately after the order is confirmed.
So you will have to wait 2-3 days. Pay directly to the courier when the package is delivered! The images and technical data accompanying a product sheet may be indicative or may not be complete and exhaustive on certain characteristics. Dcr srl reserves the right, once the order has been received, to verify its availability. If the customer is not available, an equivalent or higher brand will be offered, otherwise we will refund you in full. After the purchase, we recommend that you send the license plate to verify its compatibility. No liability can be attributed to dcr srl in case of incorrect order or in case of delay of the carrier. All customers who require an invoice must provide the necessary data for its issuance beyond the ordering and payment phases of the equipment, otherwise a regular receipt will be issued. Privacy policy in reference to the provisions of Legislative Decree 196/2003, in order to protect the confidentiality of the processing of personal data, we wish to inform you that the personal data you provide, or the records and/or acquired in the course of our activity, may be treated with or without the help of electronic means, in accordance with the aforementioned legislation, for the institutional purposes of our activity. Return is only accepted if the condition of the objects is as new. If the customer wishes to return one or more items, they can return them within 30 days of receiving the order, provided the items are intact, sealed, complete and contained in the original package. The packaging cannot be damaged, altered or scratched. It is up to the customer to ensure that returned items arrive at our warehouse within 55 days of the delivery date of the order. You will need to specify the order number, descriptions or reference numbers of the products to be returned and how the refund will be made. Refunds are possible via the original payment method. Or, by contacting our customer service, you can exchange with an object of equal value, lower or higher (in this case the customer will have to pay the difference). The customer should also be aware that if the returned item was acquired as part of a promotional campaign and if free products were awarded to the order under the purchase of the product, it will be necessary to return not only the product in question, but also the free product.
Both products must be under the conditions described above. A kit made up of various items can only be returned in its entirety. If the customer wishes to return an item belonging to a kit, all products that make up that kit must be returned. All products in the kit must be in the conditions described above.
Without the return authorization form, return is not accepted and the customer must remove the returned items from our warehouse within 10 days at his own expense. In the case of incomplete or damaged products, without original packaging or label or with traces of use, no return will be accepted. The status of the returned items must be as described above in order to obtain the relative refund. The customer buying agrees to the following conditions.
The customer must contact us before returning the (s) item (s), ask for the corresponding form for the object with an alleged defect, fill it out and send it to us for related acceptance of all requested data received and/or invoice, technical report by an expert (mechanic /auto electrician) with relative stamp and signature, description of the defect and date at which it appeared. Once accepted, we will provide the customer with a nar number (return authorization numbers) that will be used to recognize the package.
Once we have received the package, we will first check with our instruments and then send it to the manufacturer for analysis. The manufacturer reserves the right to recognize or not the two-year legal guarantee. In case the item is recognized with a defect/manufacturing defect, we will refund/exchange the item/items.
If, on the other hand, the manufacturer does not recognize the defect, no exchange/refund will be made and the customer will have up to 10 calendar days to remove the or the items from our warehouse (viale mario rapisardi, 504 / b - catania ct 95123). After 10 days, the item will be destroyed and/or disposed of. The time to check items with probable manufacturing defects is at least 30 business days up to a maximum of 120 business days.
Fast 24-hour, 48-hour shipping to your home. Guaranteed return satisfied or refunded. Dcr srl specializes in the sale of mechanical components for cars, constantly engaged in the search for the best products at the most affordable prices, precisely to guarantee the best quality of our wide range of selected items.
Only at dcr srl, you can find a vast range of new auto parts for any car. Your feedback is very important.
Leaving 100% positive feedback helps us grow and provide an ever better and professional service. Spare parts dcr - all rights are reserved. Designed and powered by beecart.
240 240 decree 77 88 88 85 77 88 88 77 77 88 66 85 77 77 74 66 66 7 7 88 66 77 88 66 77 88 77 74 88 77 77 74 88 99 99 88 66 77 reso. The item \"kit clutch valeo 826865 lancia delta iii 1.6 d multijet from 09.08\" is on sale since Friday, January 15, 2021. It is in the category \"auto, motorcycle - parts, accessories-auto parts- transmission systems -full clutch kits\". The seller is \"dcrricambi-online\" and is located in catania.
This item can be shipped to the following country: European Union.
mark: valeo
ean: 3276428268651
manufacturer part number: 826865deltaiii
code iam (independent aftermarket): 826865