VKM 03202 FREEWHEEL PULLEY FOR ALTERNATOR for ALFA ROMEO, FIAT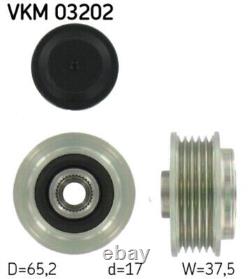 WELCOME TO THE BAKELIT STORE. VKM 03202 - ALTERNATOR FREE WHEEL PULLEY for ALFA ROMEO, FIAT.
Since 1907, SKF has been contributing to the automotive industry by supplying automotive parts and spare parts to major global automotive manufacturers. SKF offers complete repair solutions, a wide range of products with original performance, as well as optimal quality and reliability. For brand: ALFA ROMEO, FIAT For model: 159, BRERA, SPIDER, CROMA Width [mm]: 50.5 Inner diameter [mm]: 17 Outer diameter [mm]: 54.6. Shipment within 24-48 hours upon receipt of payment and delivery within 48 hours after shipment. Returns accepted within 30 days for any part still in its original packaging.