Obd Diagnosis Icarsoft Ft II For Fiat / Alfa Romeo German Merchants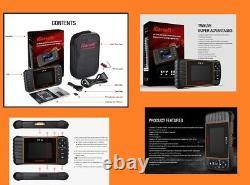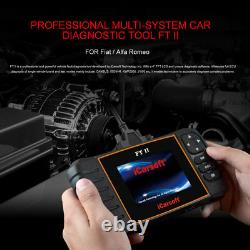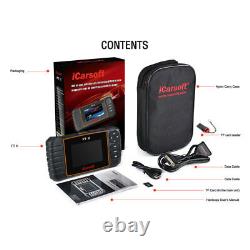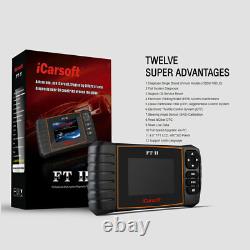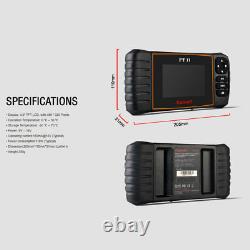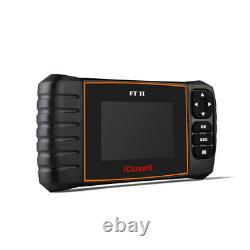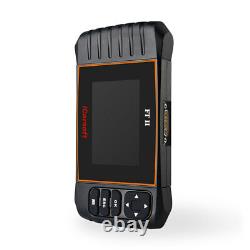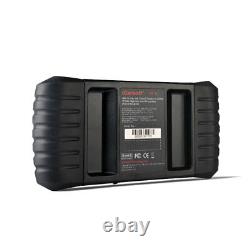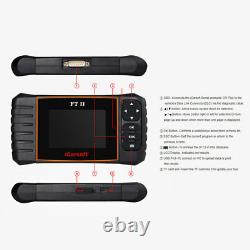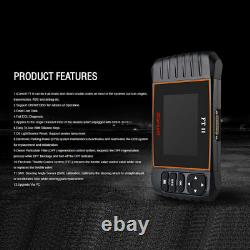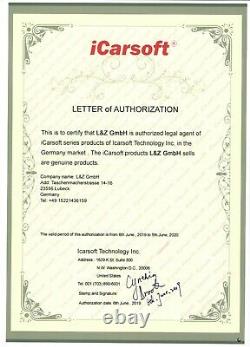 Obd diagnostic icarsoft ft ii for fiat / alfa romeo German merchants. This product sheet has been automatically translated. If you have any questions, please contact us. Official distributor - free updates - 2 years garan. Icarsoft ft ii for fiat / alfa romeo vehicles. The diagnostic device obd ft ii has been specially developed for fiat /alfa romeo vehicles. It is used for a quick memory analysis of engine defects, gearbox, abs and many other control units, as they are installed in allen newer vehicles.
Our diagnostic device obd model ft ii is a high quality scanner. This professional diagnostic device does not require a computer.
The connection is made only by plugging it into the diagnostic intake of the vehicle and the device is immediately operational. The reading of the memory of defects is therefore very simple. Errors are displayed directly on the color screen.
The display is in plain text. With the simple use of seven buttons, the device is very easy to use and suitable for any layman. This professional budget tester will help you with the vehicle's diagnostics.
Simply inspect your vehicle yourself before going to a workshop/inspection. Many other diagnostic devices sometimes only provide access to the engine control unit, better devices offer access to four control units (engine, abs, airbag and transmission).
However, our ft ii provides access to all control units installed in the vehicle, including. Engine and transmission calculator, abs and airbag. Regeneration of the diesel particulate filter (dpf). Calibrate the turning angle sensor. Life data function for example, various temperature displays, air mass, engine speed, fuel system condition, etc.
Service reset function (reset intervals, removes warning display). Read and remove generic and manufacturer-specific error codes.
The ft ii can read the data live during operation. The live display of the sensor data is switchable, so that all relevant data is displayed on different screens, such as.
The temperature of the intake air. The speed of the engine. Position of the o2 sensor.
Depending on the vehicle used, additional live data will be made available. Can be used with fiat /alfa romeo and allen vehicles obd ii from bj 1996.
Can be used with allen European petrol vehicles from 2001 with obd ii. Can be used with allen European diesel vehicles from 2004 with obd ii.
Reads all error codes (general and manufacturer-specific codes). Deletes all codes from the control unit. Simple use via seven buttons.
Autonomous device, no battery or laptop required. Can be updated via the internet.
Communication protocols supported in zone obd 2: j1850 pwm, j1850 vpw, iso9141-2, iso14230-4, iso 15765 (can). Dimensions 200 x 100 x 27 mm. Display: 4-inch tft color with backlight.
Tension range: 12 vdc, directly via the obd interface. Connector type: standardized 16 pins.
Diagnostic device obd model ft ii incl. Cable adapter obd 16 pins. Micro sd adapter to usb.
Icarsoft ft ii for fiat / alfa romeo. Ft ii is mainly for fiat. The alfa romeo software is a bonus for customers. We also continue to develop more features to add to the software and offer them free of charge to customers. Customers can get these value-added services through a free online update.
Ft ii is a powerful professional vehicle failure diagnostic tool developed by icarsoft technology Inc. With a 4-inch tft LCD screen and unique diagnostic software, it offers a comprehensive diagnosis of the brand ecu of a single vehicle and test modes mainly include: canbus, iso9141, kwp2000, j1850 etc. It allows users to accurately diagnose complex problems.
Ft ii can read everything and erase the failure codes on all systems such as engine, transmission, abs and airbag, etc. Read the easy-to-use complete ecu diagnostic data stream with metal dome keys resetting the oil/service light, resetting the assistive service light, resetting brake pads, calibration of the steering angle sensor, etc. Epb: open and close brake pads, read and erase the epb/sbc failure codes, turn off the ecu and brake light, diagnose the functionality of the epb/sbc stirrup, reset the thickness service of the brake pads, etc. Abs/ airbag: diagnoses the system codes abs / srs, reads / erases the system codes abs / srs and turns off the lights abs / srs, performs two-way tests such as the cycling of solenoids abs, recovers information from the ecu abs / srs, etc.
Etc for more functions, please contact us for the list of functions! Read and erase anomaly codes read the complete diagnostic ecu diagnostic data stream of single-brand models equipped with the easy-to-use dlc obdii-16 with the oil-control metal dome keys/service reset epb etc lcd screen t lcd 4.0-inchft with 480,320 pixel upgrade usb 2.0 high speed upgrade via the tf card supported in multiple languages and for more information, see the user's manual.
Readiness i/m - I/m readiness indicates whether the various emission-related systems of the vehicle are working properly and are ready for inspection and maintenance tests. Image shutdown - When an emissions defect occurs, certain vehicle conditions are recorded by the on-board computer. This information is called stop-to-image data. Freeze data is a snapshot of operating conditions at the time of an emissions-related defect. O2 sensor testing - this option allows you to retrieve and visualize the results of the o2 sensor tests for the latest tests carried out from the vehicle's on-board computer. Integrated monitoring - this feature can be used to read the results of integrated diagnostic monitoring tests for specific components/systems. Evap system testing - the evap test function allows you to run a leak test for the vehicle's evap system. Before using the system test function, refer to the vehicle repair manual to determine the procedures required to stop the test. Vehicle information - The option displays the vehicle identification number (wine), calibration verification number (cvn) and other test vehicle information. We are not responsible for the labour costs that arise if there are problems with the part to be reinstalled. The oe and oem numbers displayed are only used for the allocation of technical data and for purposes.
They stand unrelated to a claim of equivalence, for example with regard to the origin, properties of materials or strength of materials. The auto parts in the photos may have protective caps.
The icon image is also possible please check the original part number to avoid an incorrect command. You'll usually find them on the part of the vehicle you're looking for. You can also do this in your specialist workshop (at a licensed dealer) using your chassis number request (vehicle identification number). If you don't know if the item matches your vehicle, we'll be happy to help from Monday to Friday.
We would like to point out that it can be is only an example of a photo, which is also mirrored can be displayed. The European Commission maintains a platform for online out-of-court settlement of consumer-entrepreneur disputes (bone platform). Air mass/airflow engine speed speed vehicle sensor position o2 slow correction fast correction........ Life data function function of life data specifications case techniques: plastic color of the case: black contents of the delivery cable usb bag carry description: features: read the data stream diagnostic full ecu etc twelve super benefits: read the data stream diagnosis full epb etc functions obdii: 1. Guaranteed data flow: 2 years 8:00 a.
The item \"obd diagnosis icarsoft ft ii for fiat / alfa romeo German merchants\" is on sale since Tuesday, December 4, 2018. It is in the category \"auto, motorcycle - parts, accessories-equipment, garage tools-diagnostic tools-readers code, scanners obd\". The seller is \"lzgmbh2014\" and is located in the city.
This item can be delivered anywhere in the world.
unit: German /english
: no
modified article: no
mark: icarsoft
manufacturer part number: ft ii
manufacturer: 2 years