Rsr Exhaust Gas Temperature Display Kit On Green Digital Egt Vr6 16v G60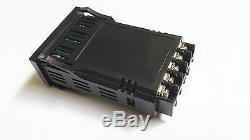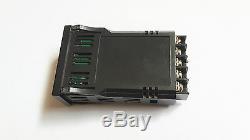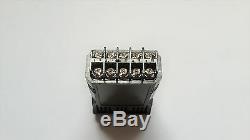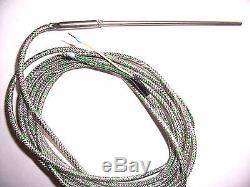 Rsr temperature exhaust kit green digital display egt 16v vr6 g60. This product page has been automatically translated. If you have questions, feel free to contact us. Digital display h / w / d: 22/45/72 mm display / color: 4 digits / green display / voltage: measuring 3 x per second / 12v sensor: NiCr-Ni Type k 3 mm x 100 mm / inconel measurement - 200 to 1200 ° C, pliable and suitable for high pressure applications and vibration sensor cable 3 m long, silk glass up to 400 ° c compression fitting: m8 x 1 x 3.0 mm, stainless steel v2a welding nut: m8 x 1 connection cable 1m bifilar (2x1m) 1.5 mm² display weight: 180 grams.
The vehicle operating list is only a sample list and need not be 100% correct! A universal set temperature display 12v fumes with a digital display of the green temperature, a sensor of temperature of the flue 3 mm thick (up to 1200 ° C) with a glass fiber cable 3 m (400 ° C), a compression fitting stainless steel M8x1 for 3 mm probes, a welded M8x1 nut for compression fitting and a cable of 1 m to two son 1, 5 mm² for connection to the food. The set consists of: 1 x 1 x sensor screen egt egt 3 mm x 3 m x 1 compression fitting m8 x 3 mm x 1 weld nut m8 x 1 1 x 1m cable with two son. The set includes all the parts for installation, including the compression fitting!
Other sensors, compression fittings and assemblies can be found in the sub shop displays / instruments - temperature exhaust gas / egt - accessories. You will receive instructions with guide values, the pin assignment, instructions for installation and setting. The announcement fits all vehicles, cars, motorcycles, boats, etc.
With voltage of 12V board. You will find detailed information on the different rooms in tech. Warning, the sensor is thick, less the temperature is displayed because the sensors react more slowly to temperature fluctuations, thicker sensors than 3 mm are not suitable for displaying the exact temperature, the temperature peaks are not displayed, but this can result in damage to the charger / motor without visible !!! At the temperature of the exhaust gas, each level has to reach the limit! Our sensors are high quality products from German production, not comparable with cheap products, compare offers exactly!
We use only the glass fiber (400 ° C) as wiring insulation for the sensor because the silicone cables for most green only tolerate temperatures of 200 ° C and can be limited with many conversions turbo or motors greatly increased in the collector area !!! The sensor has a thickness of 3 mm because it offers more safety reserves because the pressure fluctuations in the manifold are very high in turbo engines, which can cause vibrations that can cause tears if the sensors are too thin. The sensor is foldable, suitable for high pressure and vibrations!
In addition, the sensor cable is 3 m long, so it can be installed easily and there are also positions as such. Pillar is possible for the display, if the cable is too long it can be shortened. An extension is possible only with special connectors! The display of the temperature of the exhaust gas is necessary to indicate motor overheating, which can have a variety of reasons, ignition set incorrectly, too lean, incorrect adjustment, too high boost pressure, injection nozzles too small / defective, etc. Then on the highway and the engine suffered engine damage, in the best case a single valve burned in the wrong piston has a hole!
Looking at the screen and in an emergency, you can see that the temperature is too high and can prevent costly damage to the engine / turbocharger! The display should not be missing in any conversion turbo / compressor or standard engine with improved performance! The exhaust gas temperature display is also required for each engine setting or when using universal injection systems! Installation should only be performed by qualified personnel!
H / b / t: 22/45 / 72mm. 3mm x 100mm NiCr-Ni typk / inconel. M8 x 1 x 3.0mm, v2a edelstahl. The item \, counters \ others.
\The seller is \This article can be shipped worldwide.
welded nut: m8 1 unit <\/ li>
produkt abroad: not <\/ li>
package: not <\/ li>
measurement: -200 to 1200 ° C <\/ li>
Article modified: not <\/ li>
sliding connection: m8 x 1 x 3.0mm, V2A stainless steel <\/ li>
brand: rsr-performance <\/ li>
Manufacturer: performance rsr <\/ li>
display dimension h / b / t: 22/45 / 72mm <\/ li>
display color: green <\/ li>
display with alarm: not <\/ li>
sensor: 3mm x 100mm NiCrNi typk / Inconel <\/ li>
cable length sensor 3m <\/ li>
Manufacturer warranty: Yes <\/ li>
manufacturer part number: egtg - 001 <\/ li> <\/ Ul>